Challenge
Natural disasters and public health emergencies affect tens of millions of people each year. They can destroy homes and businesses, wipe out financial resources, uproot families and cause lasting injuries and deaths. For communities, the effect can be just as devastating, inflicting enormous environmental and structural damage; stalling or even reversing a society's economic growth and development; and producing and exacerbating poverty and instability. Such disasters, which include earthquakes, hurricanes, floods, wildfires, droughts and pandemics, have been a consistent feature of human existence, but the frequency and intensity of such incidents have increased over the last few decades, in significant part because of climate change and growing population mobility. All of this has made managing disasters more urgent, more expensive and more complex. Just as human behavior plays a critical role in driving these disasters, so too can it play a critical role in reducing the impact and likelihood of these events.
The Forum
On June 10, 2019, Columbia World Projects (CWP) held a Forum for 35 experts from inside and outside Columbia University to deepen our understanding of natural disasters and public health emergencies and identify promising projects that CWP could implement to address some facets of this challenge. Before the meeting, experts worked with CWP staff to develop around 20 project proposals, which we discussed and evaluated during the Forum.
What is a Forum?
A Forum brings together more than 30 experts from inside and outside of Columbia University to discuss a fundamental challenge facing humanity and identify promising projects that CWP could implement to help tackle the challenge and improve people's lives. All projects must combine university research and scholarship with the work of practitioners from outside the university to try to have a measurable impact on the challenge within five years.
Working Groups and Project Proposals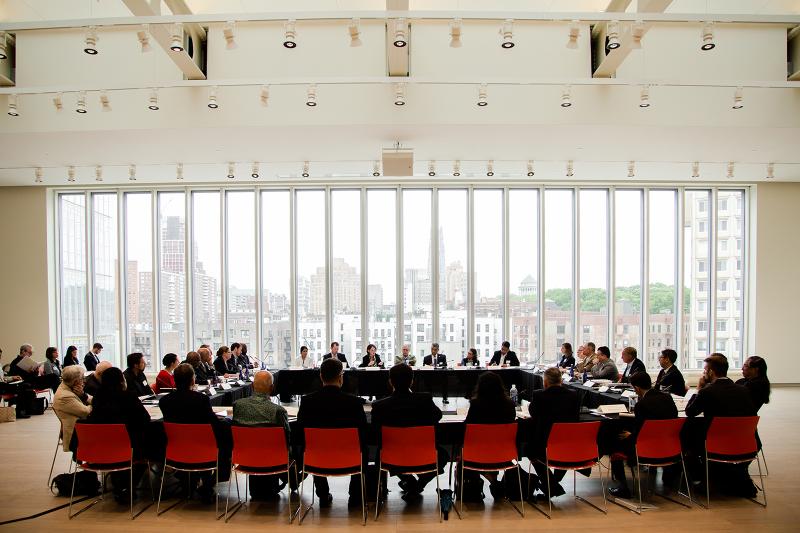 Attendees at the Disaster Preparedness, Resilience, and Response Forum. (Jordan Anstatt/CWP)
Forum participants were divided into working groups organized by theme: public health emergencies, inequities and vulnerable communities in disaster response, ecosystems of resilience, adaptation and mitigation strategies, and data and disasters.
Subject matter experts were assigned to the groups to reflect their complementary fields of knowledge, distinct backgrounds, and different views on the topic. We asked each working group to evaluate several project proposals developed in advance by participants and CWP staff.
Read more about the project proposals and the working group discussions in our Forum report.
Disaster Preparedness Working Groups
Public health emergencies

Inequities and vulnerable communities in disaster response

Adaptation and mitigation strategies
Forum Participants
About 35 experts from a wide range of fields and disciplines, and from inside and outside of Columbia, took part in CWP's Forum on disaster preparedness.

Participant biographies are current as of June 10, 2019
Next Steps
We welcome your input
If you have suggestions related to the projects selected from the disaster preparedness Forum, email us and we'll share your thoughts with the CWP project team.
Contact us at: