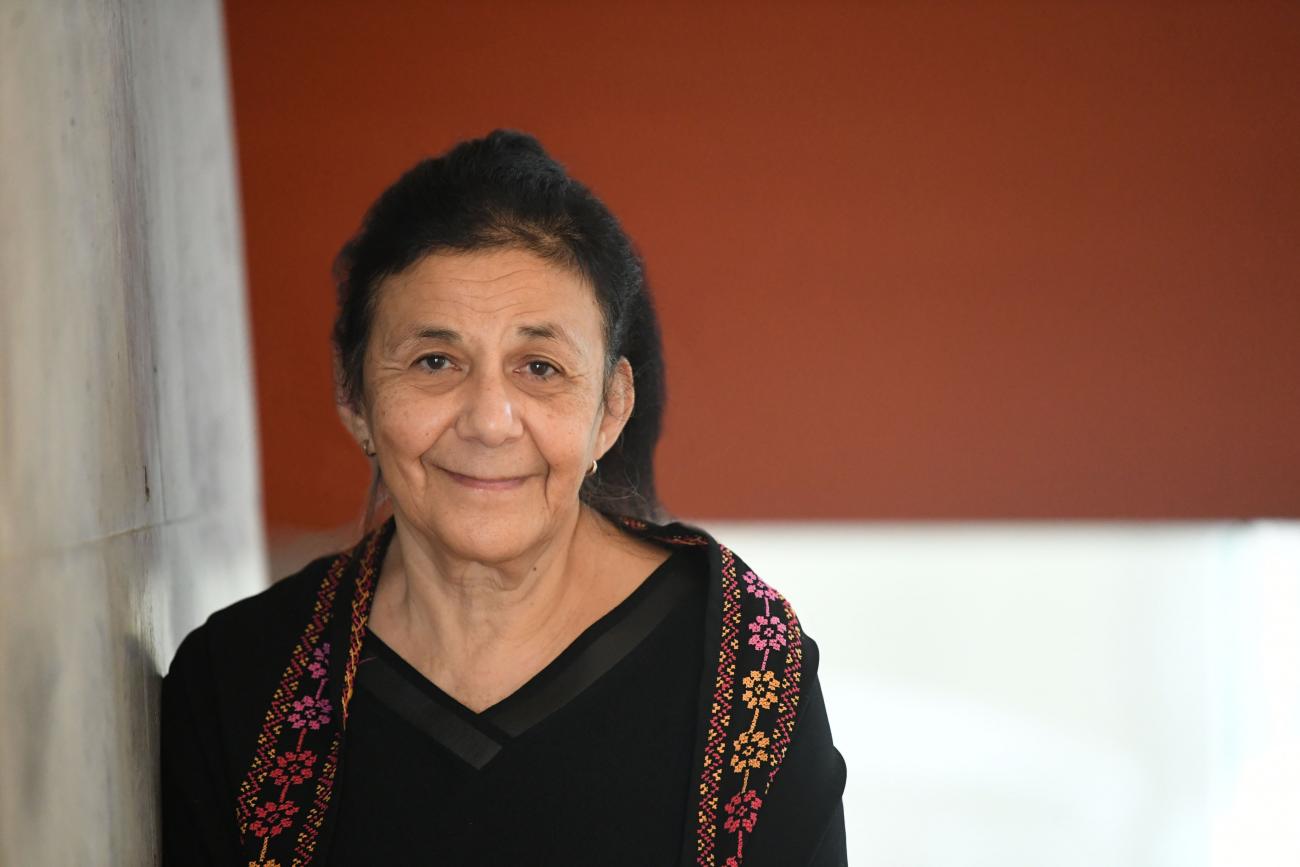 Dr. Wafaa El-Sadr, MD, MPH, MPA, can remember the exact day at the end of December 2019 when she first heard of the outbreak of a new disease, COVID-19, in Wuhan, China caused by a novel coronavirus. She also, of course, remembers exactly where she was when she first heard about the earliest cases of AIDS in the United States, and of SARS, and of H1N1.
"As an infectious disease and public health person, we are very attuned to these moments in time when you read something and you have this feeling of, 'ah, I wonder what this is going to mean,'" El-Sadr said in a recent Zoom interview, of epidemiologists' relationship to outbreaks of disease. One of the first things they wonder, she said: "Is this something limited or is this the beginning of something big?" When China locked down the city of Wuhan on Jan. 23, 2020, El-Sadr said, she knew that this virus was "much bigger than was appreciated." 
Since then, El-Sadr—the Dr. Mathilde Krim-amfAR Chair of Global Health, the director of ICAP, and the incoming director of Columbia World Projects—has been spearheading the university's response to COVID both at home and abroad. ICAP, the sprawling global health organization at the Mailman School of Public Health, which she founded and runs, currently works in close to 40 countries around the world advancing research and scaling up programs. It sprung into action as soon as the virus hit by working with people on the ground to do whatever was needed. That includes helping track the virus by strengthening surveillance systems; procuring protective equipment for local health facilities; training health care workers on how to protect themselves, diagnose and manage COVID-19 patients; and supporting public health campaigns about the pandemic. On campus, El-Sadr leads the Public Health Committee for the President's Advisory Task Force on COVID-19, helping to shape the University's multifaceted response, including health and safety protocols. She has also become a prominent public voice on the pandemic: She has appeared on WNYC and CSPAN and has been quoted on numerous occasions in The New York Times and The Washington Post, among other outlets.
Confronting a New Set of Global Challenges at Columbia World Projects
On March 1, she adds another responsibility to her plate as she takes over as director of Columbia World Projects (CWP), a university-wide initiative that conceptualizes and implements projects aimed at confronting a wide range of global challenges including COVID-19, cybersecurity, energy access, maternal health, and other topics.
"I love learning new things," she said, when asked why she decided to take on an expanded portfolio in what may well have been her busiest year yet. She was attracted in particular by the prospect of mobilizing her decades of public health experience on projects that cut across disciplines and engage a broad array of partners.
"I feel that my experience at Columbia through the past several decades has really been a stepping stone in many ways. It's enabled me to learn along the way how to identify the key problems that we face as a global community, and also how to build partnerships across disciplines and interests to shape scalable solutions," El-Sadr said.
In an email to the university community announcing El-Sadr's appointment as director of Columbia World Projects, Columbia President Lee C. Bollinger praised her as a "gifted epidemiologist and public health leader whose expertise and values align exactly with the University's vision for CWP." 
Nicholas Lemann, who has been the director of Columbia World Projects since 2017, the year that Bollinger announced the creation of the organization as the center of a push to mobilize the university to tackle challenges in the world-at-large, said that his goal as director had been to turn "an ambitious idea into an organization." El-Sadr's experience running and scaling projects across the world, is "precisely on point for the next set of challenges" that the organization will face as it expands, he said, adding that she is "beyond ideal" as a next director for the initiative. (Lemann will continue to serve as a professor in the journalism school and a director of the publishing imprint Columbia Global Reports after he hands the reins to El-Sadr).
Approaching Health Holistically in Harlem and Around the World
El-Sadr was born and raised in Cairo, the child of two socially engaged physicians. After earning her medical degree there, she moved to New York in 1976, and, with the exception of a two-year stint as a research fellow at Case Western Reserve University in Cleveland, has lived in the city ever since.
In 1982, El-Sadr returned to New York from Cleveland, just as the first cases of AIDS were discovered in the United States. She worked through much of the 1980s as a physician and researcher on the front lines of the HIV/AIDS epidemic, and, in 1988, was named the head of infectious diseases at the Harlem Hospital Center. There, she saw first-hand the impact of HIV on an already disenfranchised community. At the time, in addition to the alarming rates of HIV, cases of tuberculosis were surging in Harlem, especially among HIV-positive populations that were already experiencing stigma, discrimination and isolation. El-Sadr was inspired by this crisis to develop a novel approach to support patients with tuberculosis, who were often homeless and had fragile social support systems, and frequently abandoned their treatment. 
El-Sadr decided to change their experience of care by transforming the clinic environment to meet patients' needs. Photographs were hung on the walls, a big table was placed in the middle of the clinic to invite conversations, field trips were organized, group holiday meals arranged, and completion of treatment acknowledged and celebrated. The approach worked. Within a year, the number of patients who completed their treatment at the clinic jumped from around 10% to 90%. From there, El-Sadr broadened what has come to be known as the "surrogate family" model to advancing another approach for HIV. The idea was sparked by the observation that women living with HIV often missed their check-ups, neglecting their own health, while consistently taking their children to the clinic. To address this, El-Sadr developed a family-focused model that enabled mothers and children to receive care together. 
In 2003, eager to test the model on a broader scale, El-Sadr founded ICAP to help make HIV treatment a reality for millions of people living with HIV in resource-limited countries, especially in sub-Saharan Africa. As of 2020, with ICAP support, more than 40 million people had been tested for HIV, and 2.64 million people had received HIV care. Building on its successes in HIV, ICAP has expanded its reach to tackling other health challenges including tuberculosis, malaria, maternal and child health, chronic non-communicable diseases and, most recently, the effects of extreme climate events on health and the COVID-19 pandemic. 
El-Sadr's successes with ICAP haven't gone unnoticed: In 2008, she was awarded a MacArthur fellowship, the so-called genius award. In 2013, she was named a University Professor, Columbia's highest academic honor, reserved for a handful of faculty members who are elevated to serve the university as a whole, rather than a specific department or school. 
ICAP has about 2,400 people on staff with 180 located in New York and the rest in the countries where it works worldwide. Its response to the COVID-19 pandemic, El-Sadr said, was driven by the needs identified by her teams in conversations with partners on the ground. ICAP's global staff drew on long-standing relationships with civil society groups and ministries of health to identify their priorities. ICAP's response was multipronged, varied, and, sometimes, unexpected: In Zimbabwe, ICAP commissioned two renowned musicians and poets, Albert Nyathi and Dereck Mpofu, to write "Apart/Together," a song in three languages that aims to raise awareness about COVID-19 and how to stay safe during the pandemic. 
"I am so proud of our teams," El-Sadr said, "they worked so hard to make sure that the hard-won health gains would not be jeopardized, while at the same time pivoting to support COVID-19 related work." 
Working From the Office During COVID-19
Despite all of her successes, there's nothing imperious about El-Sadr when you speak to her: She smiles often; she cracks light jokes; she praises colleagues effusively. "What would we have done without Donna and Melanie," El-Sadr mused about her co-workers Donna Lynne, DrPH, and Melanie Bernitz, MD, who have also helped steer the university's response to the pandemic: "The great joy of this experience over the past year is meeting and having the opportunity not just to work but to get to know these remarkable women and so many other committed people across the University."
Throughout the pandemic, El-Sadr has continued to come to her office at Columbia's Mailman campus, which is neatly appointed with fresh flowers, a stocked bookshelf, and African art. (Coming to campus, she noted, has never been against the rules, since she is considered an essential worker.) 
Some co-workers have been able to return to the office recently, as part of a phased re-opening, but for much of this last year, she was alone all day.
"This has not been easy. The most stimulating part of what I do is being with others, to listen, to problem solve together, to exchange ideas," she said, noting that face-to-face interactions have been central to her working style. She also misses traveling to the countries where ICAP operates to meet with her teams, to see what they are doing, and how they are doing it. "Going from Zoom meeting to Zoom meeting," she said, "is not the same thing."
Usually, she gets in the office around 6:30 in the morning to get a good start on the day and catch colleagues in different time zones. She stays for around 14 hours and sleeps about five hours a night. She reads nonfiction books for pleasure when she can. Before the weather got cold, she would take walks or a slow jog near her apartment through Riverside Park to relax. She's in a pod with her daughter, her brother, and two close friends. They all try to get together for a meal every week or two to keep everyone's spirits up.
El-Sadr said that the decision to come into the office when the pandemic hit felt vital to her for a range of reasons: "I felt compelled to experience fully the impact of COVID-19, walking down empty streets while listening to the birds in the stillness of those early days, watching people come out on the fire escapes of their apartments in Washington Heights at the end of the days to celebrate the heroic essential workers and hearing the shrieks of ambulances from my office when there was no one there," because of the lockdown, she said.
"It is about continuity. It's about being present in the moment," she added: "I thought that it was important to demonstrate—maybe to myself—that as a public health person in this moment in time, I cannot be away."