Challenge
Maternal health is a vital concern for societies around the world. The care women receive before, during and after delivery is essential to their health and that of their children, families, and the communities to which they belong. Significant progress is being made to improve maternal health, but in recent years the rate of progress in many countries has considerably slowed or even regressed. Meanwhile, gaps in access to high-quality maternal health care are growing — not only between regions and countries but also within countries.
According to the World Health Organization, more than 800 women die each day from preventable causes related to pregnancy and childbirth, and countless others are affected by health problems experienced during pregnancy and after birth (known as maternal morbidity). In the United States — where a 2019 report found that over 60 percent of pregnancy-related deaths were preventable — the number of women dying from childbirth is increasing. Disparities in maternal mortality and morbidity along racial lines are also growing, driven in part by pervasive and longstanding inequities.
Active Projects
One project that emerged from our maternal health Forum (detailed below) is currently underway.

More information on the two projects from the Forum that are currently in development, Improving Maternal Health Among Adolescents and Reducing Maternal Mortality and Morbidity in New York City, will be posted soon.
The Forum
On January 29, 2019 Columbia World Projects (CWP) invited experts from inside and outside Columbia University to a Forum designed to deepen our understanding of why it has proven so challenging to achieve global targets for maternal health and to identify promising projects that CWP could implement to substantially improve maternal health. In advance of the meeting, experts worked with CWP staff to develop nearly 20 project proposals, which we discussed and evaluated during the Forum.
What is a Forum?
A Forum brings together more than 30 experts from inside and outside of Columbia University to discuss a fundamental challenge facing humanity and identify promising projects that CWP could implement to help tackle the challenge and improve people's lives. All projects must combine university research and scholarship with the work of practitioners from outside the university to try to have a measurable impact on the challenge within five years.
Working Groups and Project Proposals
Forum participants were divided into five working groups organized by theme: mental health, racial and other unacceptable disparities, system approaches, environmental factors, and adolescent health and preterm birth. Subject matter experts were assigned to the groups based on their knowledge, background, and different views on the topic.
We asked each working group to evaluate several project proposals that had been developed in advance by participants and CWP staff, and to consider the strengths of each proposal.
Read more about the project proposals and the working group discussions in our Forum report. 
Maternal Health Working Groups
Racial and other unacceptable disparities
Forum Participants
About 35 experts from a wide range of fields and disciplines, and from inside and outside of Columbia, took part in CWP's Forum on maternal health.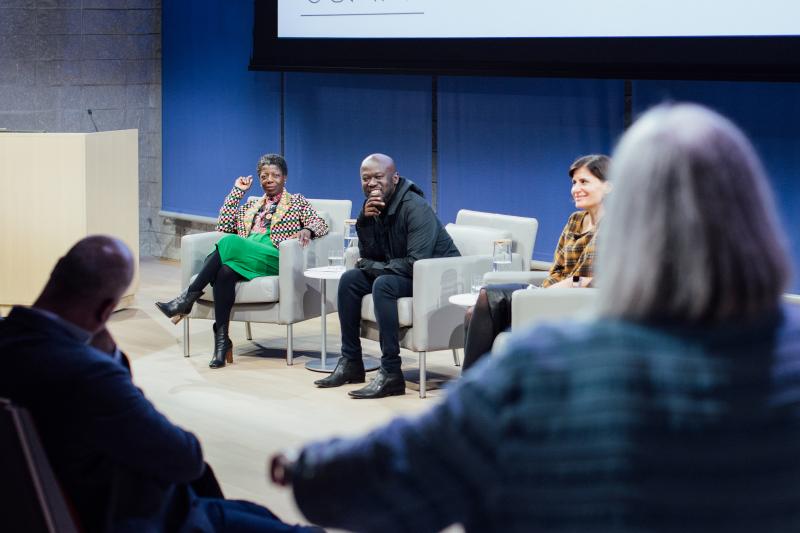 David Adjaye takes a question from an audience member at the Forum at Columbia University. (Jordan Anstatt)