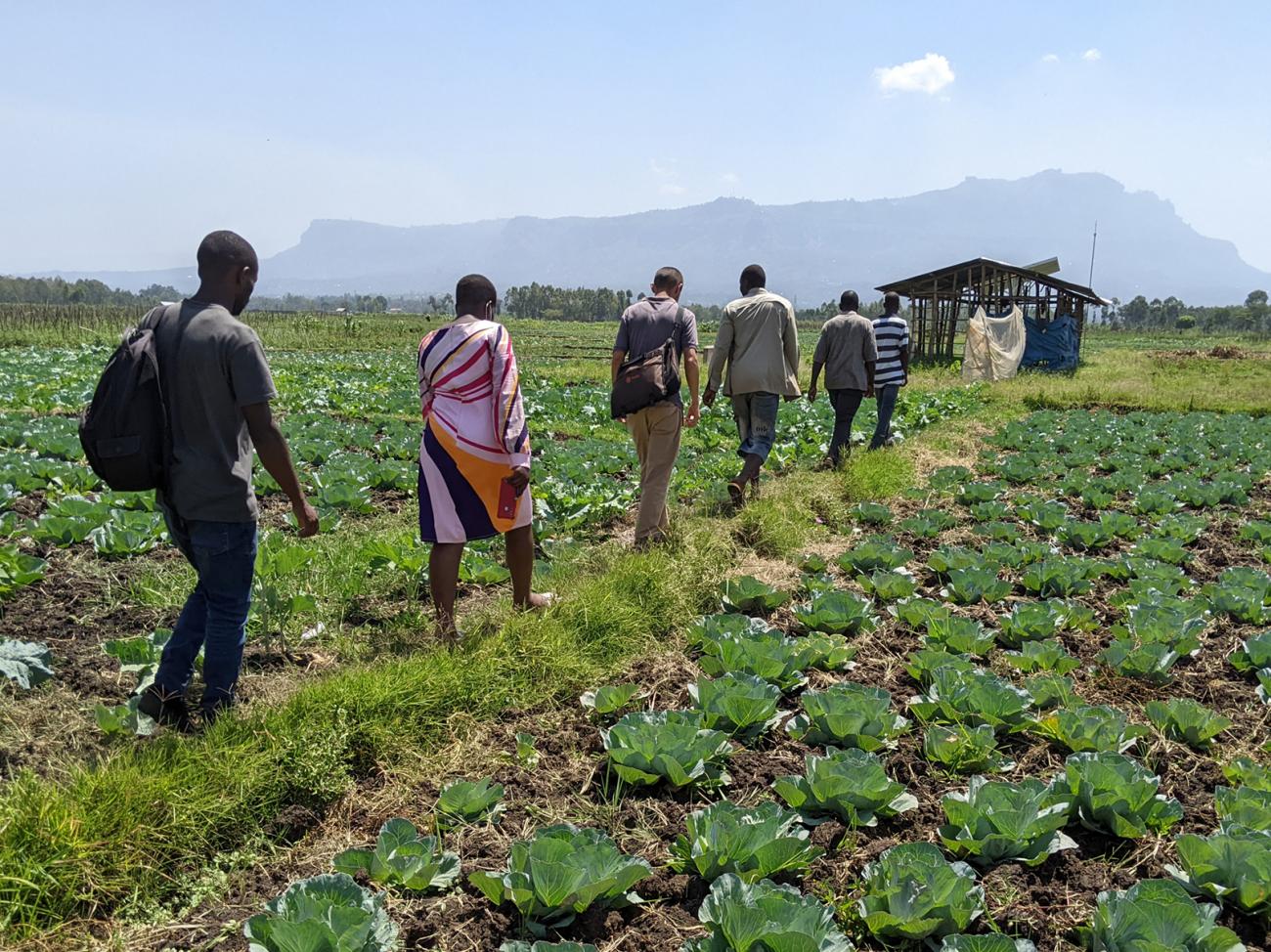 The Columbia World Projects team traveled with local surveyors to farms across Uganda, interviewing more than 1000 farmers about their energy use. (Columbia World Projects)
A Columbia World Projects team this spring completed a survey that will provide key data to help the project unlock opportunity and expand energy access across Uganda.
The survey was completed for the project Using Data to Catalyze Energy Investments, which aims to address a critical challenge: More than 800 million people around the world, many of whom live in sub-Saharan Africa, do not have access to energy.  Achieving that access is vital to expanding economic opportunity, ensuring food security, and reaching other key measures of human development.
This spring, the project surveyed farm plots in 10% of the districts in Uganda to identify areas where irrigated agriculture is underway but energy is not yet available.
The data collected by the project will be published in a public online platform, allowing private and public sector energy providers to better understand the areas across Uganda that do not yet have energy access but are well suited to it. Offering energy access in areas where people work is likely to increase economic productivity, driving further demand for energy, and ultimately lifting communities from poverty.
"This new data is vital to ensuring that the project reaches its goal of substantially  improving the livelihoods of Uganda's citizens by spurring more economic activity and investment," Vijay Modi, a professor of Mechanical Engineering at Columbia University, and a lead on the project, said.
More than 1,100 farmers across Uganda were interviewed for the survey, and more than 6000 plots of rural land were assessed.
Columbia World Projects will partner with the government of Uganda to survey more land across the country beginning later this year.
"This data will help the Ugandan government assess which areas of the country are best suited for the different forms of energy investments. They will aid our ministry and other ministries, departments and agencies as we guide investments on the most effective ways to expand energy access to communities that do not yet have it and promote productive use of energy," said Brian Isabirye, Commissioner of Renewable Energy at Uganda's Ministry of Energy and Mineral Development. 
The project aims to provide a model for how to use data to expand energy access in rural areas across sub-Saharan Africa and the world, moving the world closer to the United Nations' goal of ensuring reliable access to energy for all by the year 2030.