Summary
On average, children from low-income households enter kindergarten a full developmental year behind their peers. Education and social services systems in the United States often fail to provide effective support for low-income children once they enter school systems. When these systems fail, it leaves many children and families facing an uphill battle in accessing academic, social and future career support and opportunities. Children who grow up in low-income households are then much more likely than their higher-income peers to experience poverty and other adverse outcomes well into adulthood.  
This Columbia World Project brings together Columbia University faculty from the School of Social Work and Teacher's College to address this challenge by partnering with the non-profit organization Room to Grow. The project will build on Room to Grow's unique program model, which offers structured coaching and community connections to support parents during the first three years of their child's life, as well as material goods for their babies.
Columbia World Projects is supporting the continuation and expansion of the Columbia Mothers and Babies Study, a small-scale randomized controlled trial (RCT) that is evaluating the Room to Grow program in New York. Through this RCT, the research team hopes to assess how the program impacts a variety of outcomes for children and families. The data provided by the study will deepen our understanding of the combined value of parenting education and material goods that the Room to Grow model provides, and may eventually help guide policy decisions and private philanthropy in this area. 
A second proposed phase of the project would enhance and scale the Room to Grow model, expanding the organization's existing strategic growth plan to maximize their reach in New York and Boston. This proposed phase would support an analysis, planning and development process for replicating the program model in new locations and the launch of a second cohort of families to participate in the RCT. A third proposed phase of the project would use the data collected through the RCT to develop ideas for national and local policy changes that could support a broader expansion of the program model across the country using federal funding sources.
Through this project, Room to Grow and Columbia World Projects aim to reach more low-income families, build cross-sector partnerships to close service gaps and apply findings from the research to determine how best to scale Room to Grow and also to influence public policy at the local, state and federal levels. Evaluating Room to Grow will yield critical insights for public policy makers about combating poverty and income inequality both in the United States and worldwide.
Statistics
Of children in the United States are living at or near the poverty line

Or more of children from low-income families struggle with reading throughout elementary, middle and high school
light
Background
Low-income families disproportionately face exposure to risks that can worsen the long-term economic, educational and health outcomes for their children. These risks include higher frequencies of trauma, parental depression, food insecurity, substandard prenatal and ongoing health care, and housing instability, which can all create opportunity gaps among young children. A landmark study from Hart and Risley (1995) found that by age three, the vocabularies of children in families receiving welfare were half as large as those of their more advantaged counterparts and that these disparities persisted throughout childhood. As a result, low-income children typically enter kindergarten one year behind their higher-income peers, and ultimately one quarter do not graduate from high school.
Room to Grow's model offers structured coaching and community connections to support parents during the first three years of their child's life, as well as material goods for their babies, in order to address the gaps that children from low-income families face. Parents who enroll in Room to Grow attend their first visit during the mother's third trimester, and continue attending quarterly visits at one of Room to Grow's warm, welcoming Family Centers for the next three years. During the course of the program, parents meet one-on-one with their dedicated program team to address developmental inflection points, to monitor their child's progress and to receive individualized guidance in order to expand their parenting knowledge and skills. In addition to discussions on parenting strategies and child development, the program team also offers emotional support to families and helps parents develop adaptive coping skills to effectively manage life's stressors, which are particularly acute for families living in poverty. They also help families access vital community resources and assist them in navigating services such as early intervention, housing, workforce development and mental health support. Finally, Room to Grow combines parenting education and counseling with the distribution of material goods such as books, toys, clothing, and equipment (up to $10,000 in retail value over three years) to enable caregiving, enhance children's home learning environments and alleviate material hardship and the associated stress for parents. 
Participation in Room to Grow helps close the gap in cognitive, physical and emotional health between low-income children and their higher-income peers. It also reduces the risk of depression for low-income mothers and improves parents' self-efficacy and problem-solving skills so that they can better support their young children. It is well established that high quality parenting and income supports are critical for children's development, but to our knowledge, Room to Grow is the only program model combining these two supports.
Though the individual impacts of financial support and parenting programs for economically disadvantaged families are well documented, there is a major gap in understanding the short- and long-term impacts of fusing the two. Until now, almost all of the literature on the importance of income or financial supports examines the impact of increased income in isolation. To date, no high-quality research has examined whether the joint combination of financial and parenting support that Room to Grow provides leads to improved family and child outcomes.
 
Columbia World Projects believes that Room to Grow is scalable, affordable and can be successfully replicated in a variety of communities and real-world contexts. Since many hyper-successful small programs face quality challenges at scale, it is important to take a purposeful and informed approach as this project supports the expansion of Room to Grow. This project involves establishing a team of cross-sector partnerships with leading experts from relevant fields who will assist in research and preparation for successfully expanding and enhancing the program model to reach thousands more families and children. Further, gold-standard RCT evaluations provide validated evidence for policy makers that guide funding decisions, ultimately dictating which programs are funded. Therefore, a rigorous evaluation of the program model during this period of growth will be critical to ensuring Room to Grow's sustained success at scale.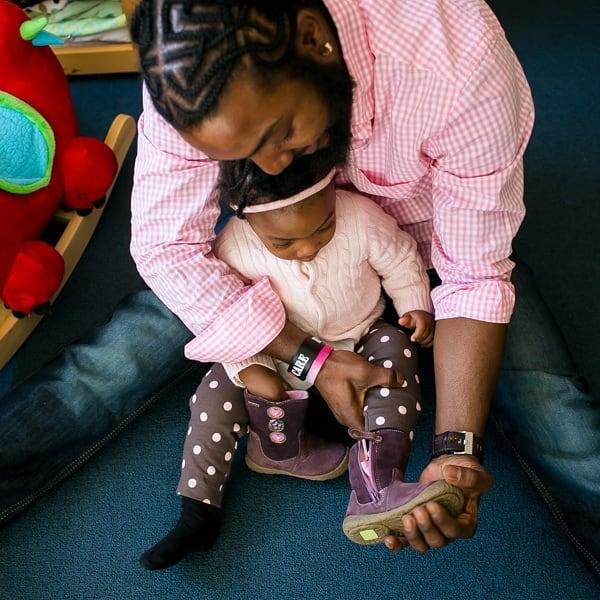 Courtesy of Room to Grow
Courtesy of Room to Grow
In Detail
This Columbia World Project has multiple components, including expanding a study evaluating Room to Grow, and scaling the Room to Grow program using information gathered in the study. Columbia World Projects has committed initial funding to the first component, the Columbia Mothers and Babies Study, and is seeking funding partners to help support further components of the project such as program expansion and continued research.
Component I: Comprehensive Research & Evaluation
The first project component is comprehensive research and evaluation of the real-time implementation of the Room to Grow program model in partnership with Columbia University. It will energetically enhance the existing interdisciplinary research partnership between Room to Grow, the Columbia University School of Social Work, and Teacher's College, by extending the scope and length of the current "Columbia Mothers and Babies Study" RCT (led by Drs. Wimer, Brooks-Gunn, and Waldfogel). Initial support for this research project was provided by a grant from the Robert Wood Johnson Foundation Interdisciplinary Research Leaders program, with additional support from the Columbia Population Research Center. Beginning in March 2017, the research team has followed 317 mothers and children in New York from a baseline interview in pregnancy through age two. The study is the first rigorous evaluation of how the innovative combination of parenting education, material goods, and connections to community resources promotes the early health and development of young children and associated improvements in parental health and functioning.
 
Ideally, this component will extend the RCT to follow participants through age five, add a second cohort following participants through the end of the program (i.e., age three), and could also potentially incorporate evaluation methods to measure the cost-effectiveness of the program model. It is anticipated that the findings from the RCT and associated research will elucidate the successful elements of the Room to Grow program model as well as areas for further innovation and improvement that can ensure continued positive or improved outcomes for children and families. While our ongoing RCT is gathering data on a host of outcomes, findings regarding certain key domains — such as maternal risk for depression, child cognitive development and the role of material support — will hold particular relevance to the public sector and will bolster Room to Grow's capacity to translate research into systems change.
Component II: Program Expansion & Development
The second proposed component of the project would expand upon Room to Grow's existing strategic growth plan to maximize their reach in New York and Boston, and would also support the analysis, planning and development of the process for replicating the program model in new locations in the future. Learnings that result from the RCT would be incorporated into the expansion and development of the program, enhancing the operation of the model. 
 
Component III: Dissemination & Influencing Policy
With the RCT and associated research providing the necessary empirical evidence to begin to influence the policy spaces in which Room to Grow operates, the third proposed project component would focus on providing critical contributions to the early childhood intervention field and exploring how to access sustainable funding streams by influencing public policy. The project plan for this proposed component extends beyond traditional academic dissemination (e.g., publications, conference presentations), to include outreach efforts to directly connect with and inform policy makers, on-the-ground practitioners, and community members. This would include disseminating the outcomes of RCT as well as the lessons learned and applied during program replication. More importantly, the project team would hope to translate this research into recommendations for actionable systems change in order to directly and effectively influence policymakers' efforts targeting income inequality. 
 
Together, the three components of this project integrate research and evaluation efforts alongside program implementation and growth, which allows us to develop the best blueprint for sustainable scaling. The evaluation distinguishes the program model from others in the fields of early childhood and family supports and positions Room to Grow as viable for scaling at a national level through federal funding sources, such as Medicaid.
Sources:
Merrick, M. T., Ford, D. C., Ports, K. A., & Guinn, A. S. (2018). Prevalence of Adverse Childhood Experiences From the 2011-2014 Behavioral Risk Factor Surveillance System in 23 States. JAMA Pediatrics 2018;172(11):1038–1044. doi:10.1001/jamapediatrics.2018.2537.
Glied, S. & Oellerich, D. (2014). Two-generation programs and health. The Future of Children, 24(1), 79-97.; Coleman-Jensen, A., Gregory, C.A., & Rabbitt, M.P. (2018) Food Security in the U.S. USDA, Economic Research Service. Retrieved from: https://www.ers.usda.gov/topics/foodnutrition-assistance/food-security-in-the-us/
Amnesty International. (2010). Deadly Delivery: The Maternal Health Care Crisis In the USA. Amnesty International Publications. Retrieved from: https://www.mhtf.org/document/deadly-delivery-the-maternal-health-care-crisis-inthe-

usa/

Hart, B., & Risley, T. (1995). Meaningful differences in the everyday experiences of young American children. Baltimore, MD: Paul H. Brookes Publishing Company. Retrieved from: https://www.leadersproject.org/2013/03/17/meaningful-differences-in-the-everydayexperience-

of-young-american-children/

Hutchison, L., Morrissey, T., & Burgess, K. (2014). The Early Achievement and Development Gap. ASPE Research Summary Brief. Stanford Center for Education Policy. Retrieved from:

https://aspe.hhs.gov/system/files/pdf/180276/rb_AchievementGap.pdf

Reardon, S. F. (2011). The widening academic achievement gap between the rich and the poor: New evidence and possible explanations. Whither opportunity, 91-116. Retrieved from:

https://cepa.stanford.edu/sites/default/files/reardon

Qi, C. H., Kaiser, A. P., Milan, S., & Hancock, T. (2006). Language performance of low-income African American and European American preschool children on the PPVT–III. Language, Speech, and Hearing Services in Schools, 37(1), 5-16.
Haskins, R., & Rouse, C. E. (2005). Closing achievement gaps. Brookings Institution. Retrieved from:

https://www.brookings.edu/articles/closing-achievement-gaps/

Hernandez, D. J. (2011). Double Jeopardy: How Third-Grade Reading Skills and Poverty Influence High School Graduation. Annie E. Casey Foundation. Retrieved from: http://www.aecf.org/m/resourcedoc/AECF-DoubleJeopardy-2012-Full.pdf