Alice Barbe was a 2018-2019 Obama Foundation Scholar at Columbia University.
What have you been doing professionally since the program ended? How did the program affect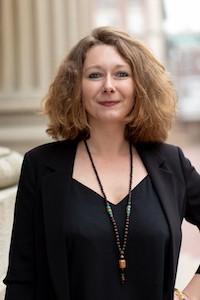 that choice?
I came back to France to launch the global entity of SINGA, the organization I co-founded that creates connections between newcomers and locals and runs incubators dedicated to migration-led innovation. As SINGA is already present in 10 countries, my year at Columbia has given me the time to reflect upon the global strategy that we must engage in, especially as we receive many applications from citizens willing to open a chapter in their country. The Obama Foundation Scholars Program was a great opportunity to strategize about SINGA scaling and priorities, especially in a hyperpolarized world where migration is becoming the most divisive topic.
What personal and professional connections did you make in the program that you would not have made otherwise?
Through the program I met fellow scholars who have elevated my vision of crucial world issues. The main takeaway is that we need to serve our communities and no matter how many awards we win or the size of our budget or team, it is the ethic behind our work that is most important. Working with Columbia World Projects (CWP) was a tremendous inspiration, especially working side by side with [CWP Deputy Directors] Avril Haines and Ira Katznelson, who graciously and humbly shared with us their expertise, humanity and kindness by driving meaningful conversation about the past, the present and the future of the planet. 
What advice would you give to someone who is considering applying to the program?
I always tell future candidates to not hesitate applying. We need to acknowledge and honor civic leaders, especially in a world dominated by privileges of the elite. These leaders need to keep challenging the status quo but they also need, like I did, to learn from their peers and from experts. We are idealists, but as [former U.S. Deputy National Security Advisor for Strategic Communications] Ben Rhodes told us: To remain an idealist, you also need to be pragmatic. That is what the program has taught us. 
What was your favorite experience during your time in New York?
Meeting informally with Mrs. Obama was a true life-changing experience. We had the privilege of spending time with her and asking her about her choices, her past and her future. Having a conversation with Mrs. Obama about how to deal with your career while taking care of your family has enabled me to reflect on how I can preserve love within my family, especially with my 3-year-old. I have to play a role in social change, as I want my child to grow up in a more peaceful world.