Challenge
Energy access is called the "golden thread" due to the critical role it plays in enabling economic opportunity and growth, health, gender equality, food security, and environmental sustainability to individuals, households, and communities. Such access makes it possible to light classrooms, refrigerate vaccines, power machines in factories, and irrigate crops.
Just as access to energy underpins development, so can lack of access to energy perpetuate and exacerbate poverty, insecurity and inequality. Experts agree that energy access is vital to human development, but the challenge of ensuring energy access is becoming both more difficult and more urgent.
The proportion of the world's population lacking access to electricity has decreased in recent years, but the absolute number of people without electricity continues to rise as a result of population growth. Today, more people lack access to electricity than in 2000. The increases in temperature associated with global warming and rapid urbanization will make the need for energy access and efficient cooling technologies more critical than ever.
Active Projects
Two projects that emerged from our energy access Forum (detailed below) are currently underway in Ghana and Uganda. Learn more about them.
The Forum
On February 20, 2018, Columbia World Projects (CWP) invited about 35 experts from inside and outside Columbia University for a Forum – a meeting to better understand key aspects of this challenge and identify promising projects that CWP could implement to achieve potential solutions. Before the meeting, experts worked with CWP staff to develop more than 15 project proposals, which were discussed and evaluated at the Forum.
What is a Forum?
A Forum brings together more than 30 experts from inside and outside of Columbia University to discuss a fundamental challenge facing humanity and identify promising projects that CWP could implement to help tackle the challenge and improve people's lives. All projects must combine university research and scholarship with the work of practitioners from outside the university to try to have a measurable impact on the challenge within five years.
Working Groups and Project Proposals
Forum participants were divided into five working groups organized by theme: decarbonization of buildings; breakthrough technologies in storage, materials, and capture; transportation and infrastructure; tracking and measuring emissions to change practice; and policy innovation.
Subject matter experts were assigned to the groups based on their various fields of knowledge, distinct backgrounds, and different views on the topic. Each working group had to evaluate between two and five project proposals developed in advance by participants and CWP staff.
Read more about the project proposals and the working group discussions in our Forum report.
Energy Access Working Groups
Finance: Innovative financing mechanisms for affordable and reliable energy access

Efficiency: Accelerating access by promoting efficient end-use to make energy services more affordable

Infrastructure: Structural solutions to deliver universal energy access

Renewables: Governance and policy frameworks for energy access

Targeted Interventions: Clean cooking, displaced populations, and disasters
Forum Participants
About 35 experts from a wide range of fields and disciplines, and from inside and outside of Columbia, took part in CWP's Forum on energy access.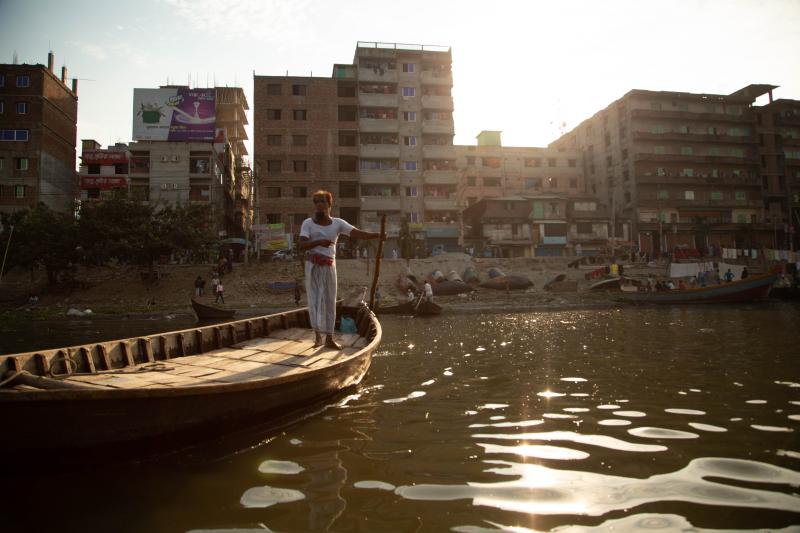 A water taxi navigates across the Buriganga River in Old Dhaka, Bangladesh. (Jacquelyn Turner, IRI)